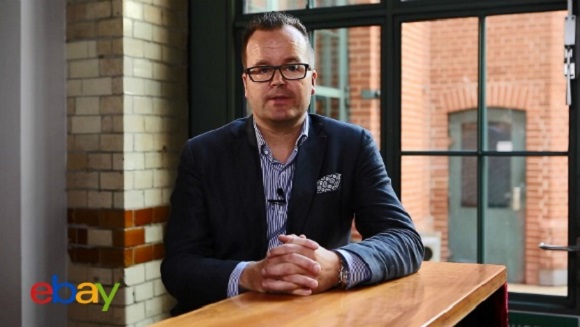 Tim Seewöster, Head of Digital Partnermanagement & Digital Sales, PAYBACK We have the pleasure of introducing you to another of eBay Partner Network's publishers, PAYBACK. PAYBACK is the leading international multi-partner loyalty programme and the biggest multichannel marketing platform worldwide. In Germany, India, Mexico, Poland and Italy, customers can use PAYBACK to collect points from over 600 companies and redeem these for vouchers, rewards or Lufthansa miles, or donate them. In 2013, PAYBACK card holders collected points worth EUR 183 million and redeemed 96 percent of these! As a multichannel marketing platform, PAYBACK communicates via all channels – offline, online and via mobile – and, in doing so, provides the optimal combination of coverage and personalisation.
How do you work with ePN?
We use eBay within three channels: online, offline and mobile. We apply offline within print mailings, which we send about 60 million times per year. One mailing can have a circulation of up to 12 million. On our website, we place eBay in every campaign and at every product level. eBay is also part of our mobile strategy, for example within our mobile app. Here, users can collect points with their mobile device.
What do you like most about ePN?
What I like is the very professional support provided by the eBay Partner Network team. Additionally, its remuneration model is fair, transparent and easy to understand.
eBay's campaign management does not push for holistic distribution, but rather focuses on guiding the user buying decision process. This ethos is very important to us and our partners as well. We agree with eBay's shift toward a more targeted approach using its behavioral profiling to identify specific personalities, which should perform with better margins. We too have had positive experiences with this approach and are working to tap its full potential.
What are the tools' advantages?
eBay's biggest advantage is the depth of detail within its reports. These allow for exceptionally detailed analysis. If I want to know who bought which item at what time and where, then the tool incredibly useful. That being said, if you have never worked with this system or are relatively inexperienced when dealing with this volume of data, you may find it a challenge to digest at first.
What are the trends in e-commerce?
In my opinion, the current e-commerce trend is clearly about targeted marketing. The question of how to connect this to additional buying decisions as quickly as possible also ties in to this. That means I can provide targeted suggestions to somebody who just purchased an item, to buy a complementing additional item.
It is always difficult to guide customers in a buying decision process, and so we at PAYBACK asked ourselves "What does the customer actually buy? We noticed that, for example, a banner will convert better if the promoted item is displayed within the creative rather than displaying a generic mood or lifestyle image.
In short, keep everything relevant. We have experienced good results when focusing at this level. In our opinion, this is not only an important issue for PAYBACK, but for all service providers in this segment – whether it is loyalty just like us, price comparisons, or editorial content – the relevance is very important.
Where do you work together with eBay?
PAYBACK is largely a German programme. Here, we have a brand awareness of over 70 percent which puts us in a very strong position. We have also just been included by American Express, and plan to internationalise the PAYBACK business model. We just launched with the same corporate name in Italy. It is obviously beneficial that the colleagues who build the business in Italy work together with eBay and use their existing range. Of course, Italy will not be the only country within the loyalty programme. We are exploring activity in other countries in the future.